Sump Pumps Services Omaha
All Hands Waterproofing provides Omaha and the surrounding areas with installation, repair, service, and maintenance for sump pumps. If an emergency plumbing situation arises due to a defective, damaged, or unreliable sump pump, All Hands Waterproofing is ready to respond quickly to meet your needs and help repair the problem quickly. With access to the best products available on the market, we install reliable, energy efficient, and discreet sump pumps to turn on when you need them most!
If the foundation of your home is lower or level with the water table, a wet
basement or crawl space can be an all too common part of life. A flooded
basement or crawl space can be a costly misadventure after a heavy
rainstorm or heavy snow melt if you don't have a trustworthy and capable
sump pump installed in your home.
For those out there who are not familiar with a sump pump, a sump pump
is used to remove water that has collected in a sump pit found in the
basement or crawl space of a house. Sump pumps are common where the
installation of a gravity flowing drain is restricted. Sump discharge lines help
carry the unwanted water away from the house and to any place where it is
no longer threatens damage to the house.
A vast majority of sump pumps are plugged into the houses electrical system.
To help safeguard your basement and crawl space, battery backup systems
and/or high water alarms can offer peace of mind that you are safe and
secure during the worst storms mother nature has to offer. Battery backup
systems allow for pumping capability so your basement and crawl space
stay waterless in case of a power outage.
Free, no-obligation sump pumps inspections & estimates
If you have damage or you need new sump pumps, give us a call today, 402.206.9815. One of our sump pumps specialists will visit your home for a free inspection. It doesn't matter if you need a new sump pump or have a non working sump pump… We have solutions for it all.
 The following are steps for sump pumps installation
Step 1:  Installing a Drain to the Sump Pump
A layer of clean stone is set down only after the floor around the edge is jackhammered up.
A perimeter drain is installed on top of the stone, and a second layer of stone is laid down. The purpose of this is to direct water from the basement wall-floor joint to the installed sump pump.
The drains include a wall flange that extends up the basement wall to collect water that may leak from the walls which is all installed by All Hands Waterproofing. Drilling the blocks to drain trapped water into your perimeter drain, if your home has concrete block walls.
Step 2: Sump Pit with Liner Installation
A sump pump pit is also excavated for the pump to be placed in. The sump pit should not be too large, but it is important to have it large enough to work correctly. When placed in a small pit, a sump pump can pump water out faster than it can fill the liner, causing them to turn on and off quickly and burn out sooner.
Pulling up water far below your home, causing unnecessary work and electricity usage happens when sump pits are too large.
The sump pump is always installed at the lowest point in the basement. This way, the water will naturally flow towards the sump pump and be pumped away.
Step 3:  Installing the Sump Pump
From the perimeter drain, a line of PVC pipe is run to the sump pump system, and clean gravel is backfilled around the sump pump liner. This gravel discourages mud and debris from settling up against the sump pump.
To keep silt & sediment from getting into the pump, it is placed on a special stand inside the liner.
To keep out odors and humidity from rising out of the sump pit there is an airtight sump pump lid, and it allows the sump pump to run much quieter rate.
The TripleSafe Sump Pump System, you will have two pumps installed in the liner, as well as two discharge lines to ensure that the pipes can handle the amount of water being sent through them.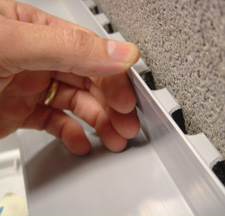 Step 4:  Testing the Sump & Drainage Line System
Prior to restoring the floor, the system is tested, to ensure the system is working correctly and to make any adjustments that could be needed.
Outside is inspected also to see if the water is being discharged to the appropriate location from the discharge line.
The WaterGuard® system will have inspection ports installed, these are conveniently placed to drain a dehumidifier or to inspect and flood test the system.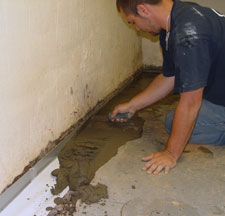 Step 5:  Finishing Touches
To finally complete the sump pump installation, the concrete floor is restored flush for a clean and attractive look.
We do not leave a gap in the floor's perimeter that can collect dust, debris, and other particles that could clog your waterproofing system, unlike other waterproofing systems.
Outside of your home, the discharge line is buried under the ground. The installer is careful to remove sections of the lawn in whole pieces before excavating to cause minimal damage to your landscaping throughout the installation.
Step 6: Basement Upgrades
It's a great idea to take advantage of the space and create a cleaner, drier, more attractive area, once your basement is protected from flooding,
To waterproof the basement and install a sump pump in your home, get the experts at All Hands Waterproofing. We offer free, no-obligation visits and written sump pump installation quotes to all homeowners. Our service area includes Omaha Metro Area, including the areas of Bellevue,Papillion,La Vista,Gretna,Council Bluffs,Lincoln,Fremont and areas nearby. Call or contact us online today to get started!
Looking for a price? Get a no cost, no obligation free estimate.